ACHIEVE YOUR FITNESS GOALS WITH ONE OF THE BEST CROSSFIT COMMUNITIES IN ROTTERDAM!
The WOD is a CrossFit workout in which you train your whole body through a series of functional movements, that are always varied, but never random, and at high intensity. Varying from day-to-day, the WOD combines olympic weightlifting, gymnastics and cardio-movements that can be modified to help each athlete achieve their goals. The workouts may be adapted for people at any age and level of fitness.
Olympic weightlifting is a strength training where a heavy object in one go (or with a brief stop at the shoulders) gets lifted above our heads. We use barbells with weights focussing on two movements: The snatch and/or clean & jerk. Olympic weightlifting is a very technical part of CrossFit and will improve your overall fitness and strength drastically. You won't only notice this during your CrossFit training, but also when practicing others sports, you'll find that you have become more explosive, more flexible, faster and your coordination has improved.
During these hours you can independently work on improving your technique and strength by following your own training program or doing your own workout. You have access to all equipment and one of our coaches will be available for personal guidance when needed.
Every Wednesday and Sunday we offer a guided yoga class at the Yoga studio next door. Mobility, strength and flexibility are essential for those who train on a regular basis. Therefore Yoga perfectly complements CrossFit. When you join our yoga classes, you will soon find that it will improve your overall fitness and mobility tremendously.
Yoga classes are taught at YOGA COOLHAVEN.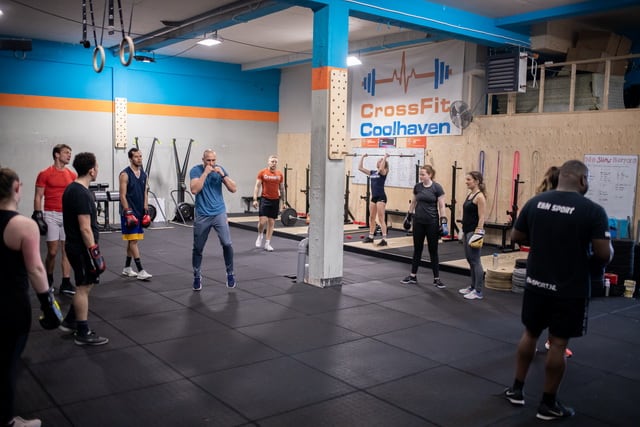 Being a true CrossFitter doesn't mean you need to give up other sports entirely—quite the opposite, in fact. As CrossFit founder Greg Glassman states, we need to regularly play new sports and new activities. Every Saturday afternoon we offer a kickboxing and/or boxing training. Training can be an individual workout on the punching bags or a series of combinations on the gloves. All boxing classes are guided by our professional boxing coach Maurits.